For My Weddings & Bridal Showers Page - Click Here!


Caricature Artist for Parties, Kids and Adults!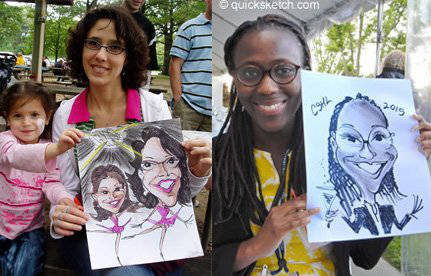 Welcome to my Party Caricature Artist Website.
Here's some of the basics:
When people call to hire a caricaturist for parties and weddings some of the first questions I'm usually asked are:
•
Do you charge by the hour? "Yes" (Please call 631-942-5154 or E-mail Party Caricatures for rates)
•
How many pictures can you do per hour? "Color 10, B&W 15-16 people per hour."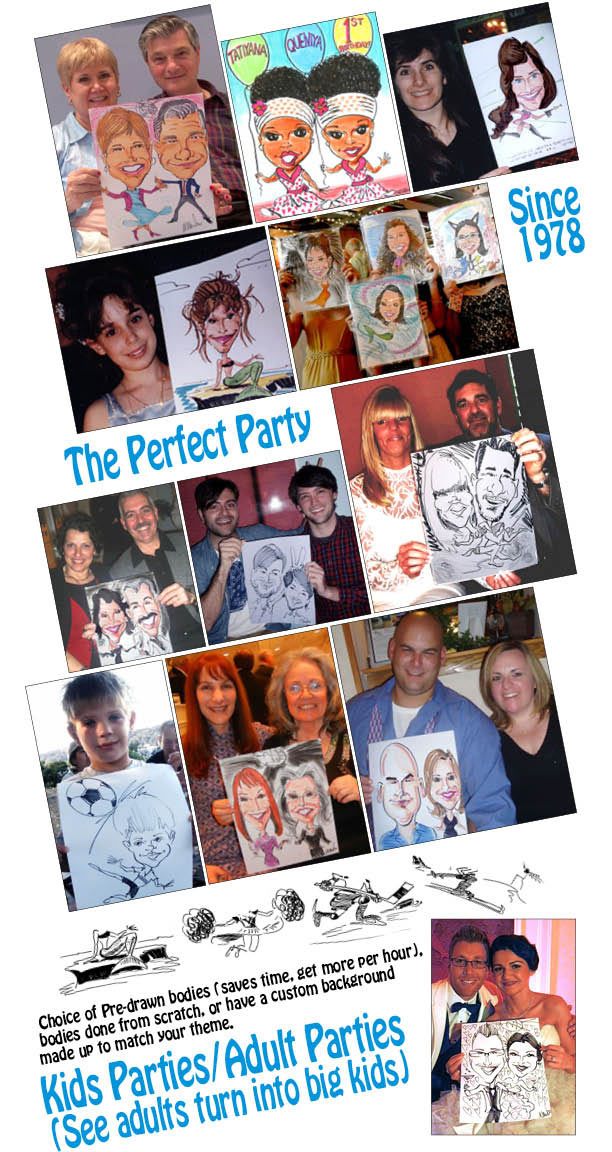 Caricature Artist for Communion, Graduations & Birthday Party Entertainment!
Now that winter is here and the holiday office parties are done people are contacting me for fun entertainment ideas for their communion parties, graduation party, first birthday parties, bar mitzvahs, adult surprise birthday parties and sweet 16 party entertainment.
You'll probaby get my voicemail, please leave a message with some info about the date, time and place of your party, so I know it's' not a sales or robo call, thanks.
---
1978 • 42 Years of Fun Party Entertainment Long Island • 2020
Cool Party Favors for Kids and Adults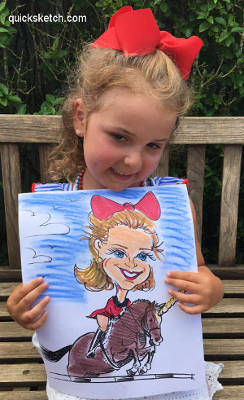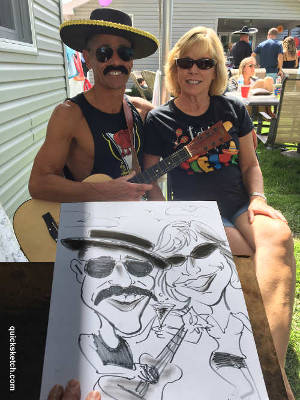 If you're upcoming party is in Long Island, NYC, CT or NJ
and you're thinking of entertainment ideas, my caricature style is complimentary and fun with the just the right amount of exaggeration. Your guests will love them and most likely frame them to hang on their walls, they are kind of like cartoon portraits, once the cartoon bodies and backgrounds are added.
It's funny how people get tongue tied when trying to pronounce and spell caricature, lots of times they'll end up asking if I'm a character artist, a live party sketch artist, the cartoon artist for parties, a cartoon drawer for hire, sketch artist for hire or a quick sketch portrait artist. Whatever you call it, your guests, clients and friends will love this special fine art illustration experience which is fun and only takes a few minutes.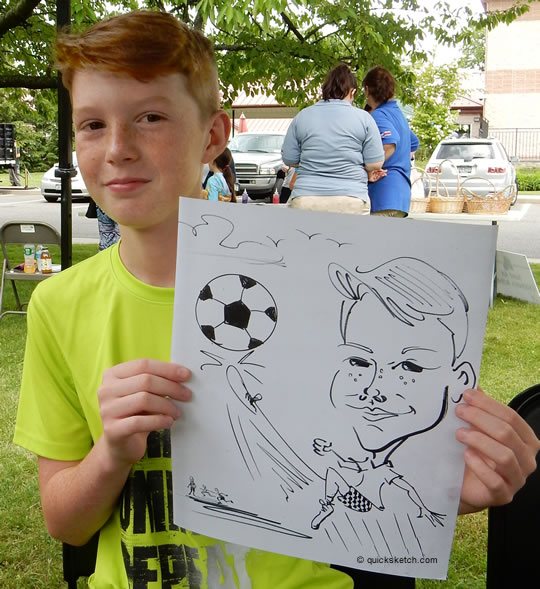 ---
---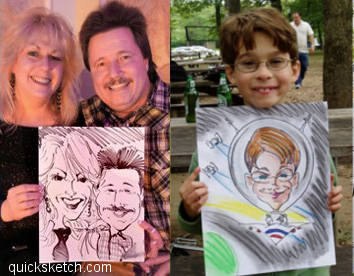 ---

Visit My Caricature Artist Blog! from a Metro NY party caricature artists point of view.
(An updated extension of this website with more photos and humorous short stories, get more of a feeling for what I'm like, personality goes a long way when it comes to finding a quick sketch party caricature artist NYC or Long Island.)
---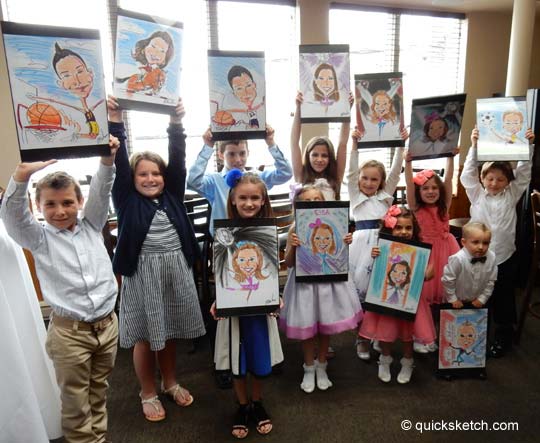 Caricature Artist for Communion Party Entertainment Ideas Long Island, Queens, Brooklyn, Staten Island, Bronx, NYC
Here's an exerpt from an e-mail: 2/5/2020
"…This will be the last communion that we will be celebrating and you're presence is a must, even if it's only for the 2 hrs! You are always a part of our celebrations and it wouldn't be the same without you, so please send me the contract when you get a chance. Thank you!" -Yessenia M.
At parties like Communions, Christenings, First Birthdays and Bar/Bat Mitzvahs when the kids are done theirs usually a number of adults want their caricatures drawn too. Book my unique entertainment service for your next great event.
---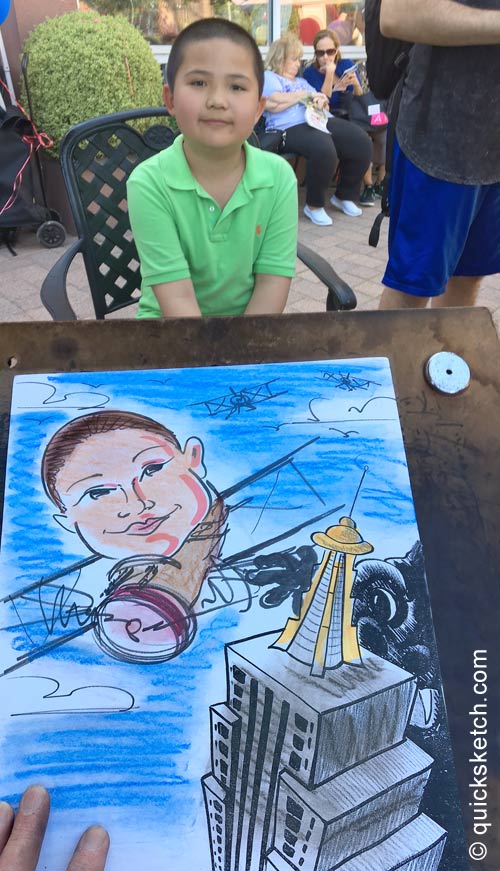 For this caricature drawn during a spring carnival for a health care company in Queens NY (similar to drawing at company picnics) I used one of my
pre-drawn backgrounds
. I take a large selection of pre-printed caricature backgrounds for both kids and adult parties with me. They come in handy to speed things up while I'm drawing caricatures at parties where it's usually noisy with lots of people around. I have a bunch of small cartoon scenes on a board that people can pick from or they tell me what they have in mind, it gets them thinking before they sit down. Not many artists go through the trouble of taking pre-print scenes with them, I can make up custom party themed backgrounds also.
The kid in the caricature to the left wanted to be in a plane, I surprised him with this picture. Instead of coming up with something from scratch I pulled out this background which is just the Empire State Building and part of King Kongs face. These cartoon backgrounds can be customized so that they won't always be the same. I usually draw King Kong holding a man, woman or a couple, this was a first for me. Caricaturists drawing party cartoons, for kids and adults.
---
---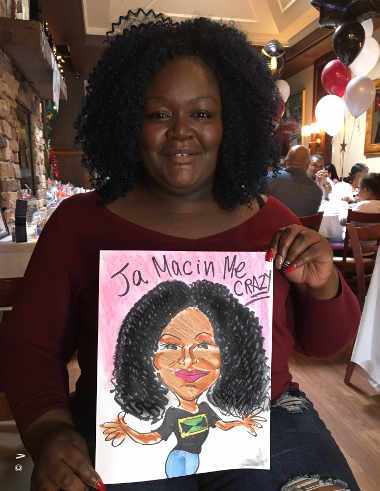 This is from a Thank You Letter I received after drawing caricatures at a local Long Island High School Graduation Party. (June 2017)
"My husband Richard and I just wanted to Thank you again for such an amazing time. My guest raved about you and your awesome talent! Your professionalism and warm presence really made everyone feel comfortable and enjoyed themselves. Thank you again. I will definitely be seeing you again at one of my many other events, I'm sure I will be hosting."
- Take care, Thank you Joanna
(Some clowning around with caricatures :o)
---
Caricatures At Weddings? Yes!


Click Here For My Wedding Caricatures Page!

(Fun Caricature Entertainment For Your Wedding, Engagement Party or Bridal Shower!)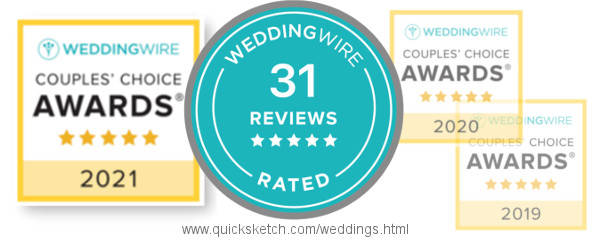 Click here to see my to see my Caricature Artist Reviews on WeddingWire!
---
Looking for Ideas to Entertain Party Guests, here's a Caricaturist for Hire!
I arrive early and find a place where people can watch over my shoulder. It's just as entertaining for those watching as for those being drawn, it even adds to their suspense.
---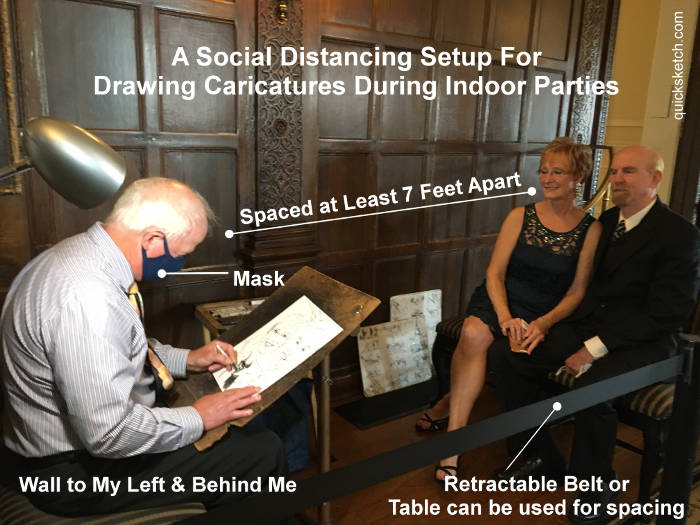 Now that the weather is changing and parties are moving indoors I still get to catering halls, restaurants and peoples homes early but to setup for Social Distancing.
---

Have an upcoming Sweet 16 party in the family,
call me (631) 942-5154 or E-mail: Party Caricature Info
(Please leave some information about the party, date, time, place.)
---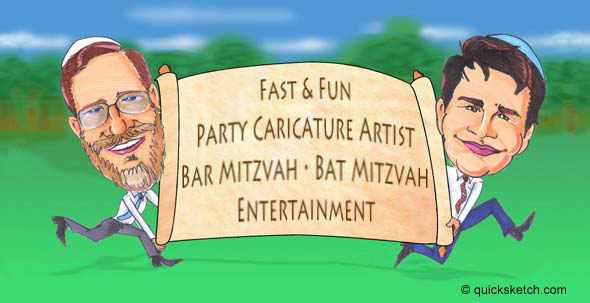 Caricatures for Bar/Bat Mitzvah Entertainment
- Fun Party Ideas For Kids & Adults!
(The adults can't wait until the kids are done so they can get drawn too :o)
---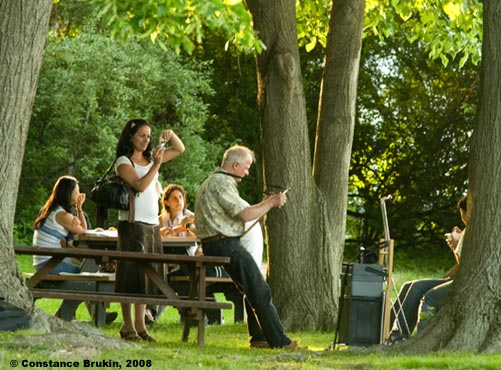 Company Picnic Entertainment!
Usually I'll draw caricatures in black and white to keep the sketches quick because of the large amount of guests at corporate events. I'm pictured above while doing walk around caricatures, (b&w sketches work best doing that). Staff and customer appreciation days, school & church carnivals, college spring fling parties, just some other corporate events to keep a caricaturist in mind for. I have other professional party caricature artists I sometimes call in for large parties. Cartoon sketch artists fast and fun party entertainment on Long Island's North Shore, South Shore, Montauk to Manhatten and beyond.
---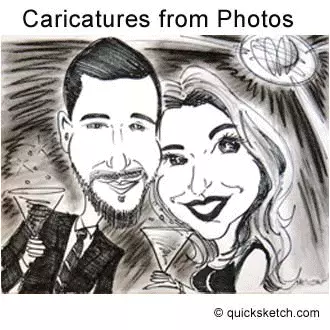 To My Caricatures From Photos Page,
also known as studio caricatures or gift caricatures. I can usually get more creative illustrating these caricatures because I have more time to work on them. I get orders both for local party caricatures (sometimes for a party I'm drawing live caricatures at and I'll take it with me) or nationally and ship them out to different states for whatever the occasion may be, surprise birthday parties, retirement parties, etc.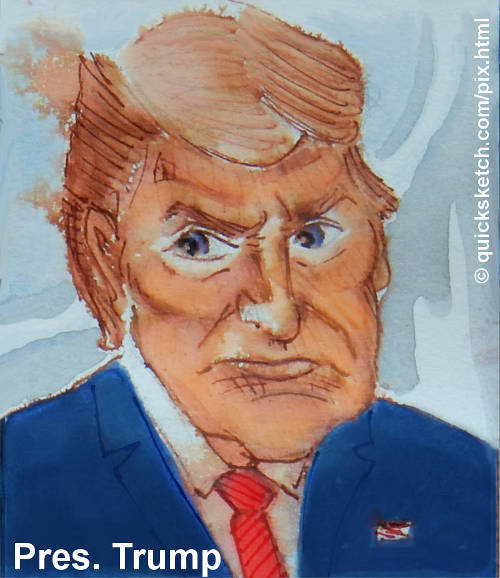 President Trump Dr. Fauci Rachel Maddow

---

---



Fine Art Prints and Greeting Card Art!

---

---

NEW YORK - NEW JERSEY - CONNECTICUT - LONG ISLAND - WESTCHESTER
• Licensed & Insured •
Quicksketch Cartoon Portrait Artist near Brooklyn, Queens, Long Island, NYC
(Entertainment Insurance that some caterers ask for and an Artistic License of course :o)

---


Feel free to download and print out my caricature artist promo above.
(My caricatures are hand drawn, so you get the original art, as opposed to a computer printout)

---

✓ Caricatures Brooklyn ✓ Quicksketch Caricatures ✓ Party Caricaturist NYC
✓ Party Cartoon Artists ✓ Cartoon Portrait Sketch Artists ✓ Caricature Artist Websites
✓ Fast & Fun Party Caricature Artist Near Me ✓ Caricature Artist Online